Basketball Prediction
LAC VS PHI NBA MYFAB11 BEST FANTASY TIPS, TEAM AND PREDICTION
Los Angeles Clippers vs Philadelphia 76ers (LAC vs PHI)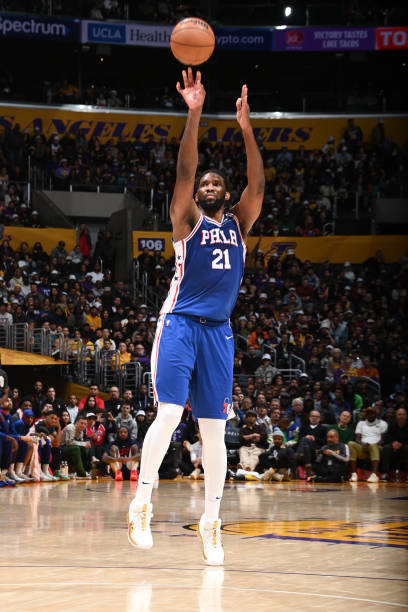 LAC VS PHI NBA MYFAB11 BEST FANTASY TIPS, TEAM AND PREDICTION
Match Details
Los Angeles Clippers vs Philadelphia 76ers (LAC vs PHI)
League American Basketball League
Date : Wednesday, 18th January 2023
Time : 08:30 AM (IST)
Venue: Crypto.com Arena
PREVIEW :
The Los Angeles Clippers play host to the Philadelphia 76ers at Crypto.com Arena on Tuesday. The Sixers (27-16) are closing out a west coast road trip this week, entering this matchup winning seven of their last nine games. The last two road games have been epic, with the Sixers grabbing one-point wins over the Los Angeles Lakers and Utah Jazz. Pulling out two narrow victories like that is huge against anyone, especially when you do it on the road. The win over the Lakers on Sunday was one of the tightest games of the year, with neither team leading by more than eight points in that nail-biter. Joel Embiid led the way with 35 points, while James Harden provided 24 points and 13 assists. Those two continue to do that every night, and it makes them one of the toughest teams in the NBA. The Clippers (23-22) have two wins in their last three games, but it's been a struggle outside of that. In fact, they had a six-game losing streak before this mini-spurt, falling below .500 in that span. This club has way too much talent to fall below .500 at the midway point of the year, but it's easy to understand why. Kawhi Leonard missed the first month of the year, while Paul George has been in and out of the lineup over the last month. This club needs those superstars to be playing a full workload for this team to reach its peak because we've only seen these guys play a handful of games together. The good news is that PG13 is expected back sometime this week, and we'll finally know where this team really is when we see these superstars together. These teams played on December 23, with Philly prevailing at home, 119-114. That gives the Sixers eight wins in their last 11 matchups with the Clippers, dating back to 2017.
Head To Head Match (Los Angeles Clippers vs Philadelphia 76ers)
Los Angeles Clippers will play their match against Philadelphia 76ers.
Los Angeles Clippers have played five matches, won two and lost three matches.
Philadelphia 76ers have played five matches, won four and lost one matches.
Los Angeles Clippers vs Philadelphia 76ers Head to Head – (Last five matches)
Los Angeles Clippers : 2(W) | 3(L) | 0(D)
Philadelphia 76ers : 4(W) | 1(L) | 0(D)
Philadelphia 76ers
Expected Lineup
PG James Harden
SG D. Melton
SF Tobias Harris
PF P.J. Tucker
C Joel Embiid
MAY NOT PLAY
None
Los Angeles Clippers
Expected Lineup
PG Terance Mann
SG P. George GTD
SF Kawhi Leonard
PF Marcus Morris
C Ivica Zubac
MAY NOT PLAY
G P. George GTD
G L. Kennard OUT
G John Wall OUT
Los Angeles Clippers (LAC) Key Players
Reggie Jackson [PTs: 793, CR: 9]
Norman Powell [PTs: 831, CR: 9.5]
Marcus Morris [PTs: 987, CR: 10.5]
Ivica Zubac [PTs: 1174, CR: 12]
Paul George [PTs: 1231, CR: 18]
Philadelphia 76ers (PHI) Key Players
Tobias Harris [PTs: 1138, CR: 12.5]
James Harden [PTs: 1268, CR: 18.5]
Joel Embiid [PTs: 1721, CR: 22]
LAC vs PHI Captain and Vice-Captain Choices
Joel Embiid [PTs: 1721, CR: 22]
Paul George [PTs: 1231, CR: 18]
James Harden [PTs: 1268, CR: 18.5]