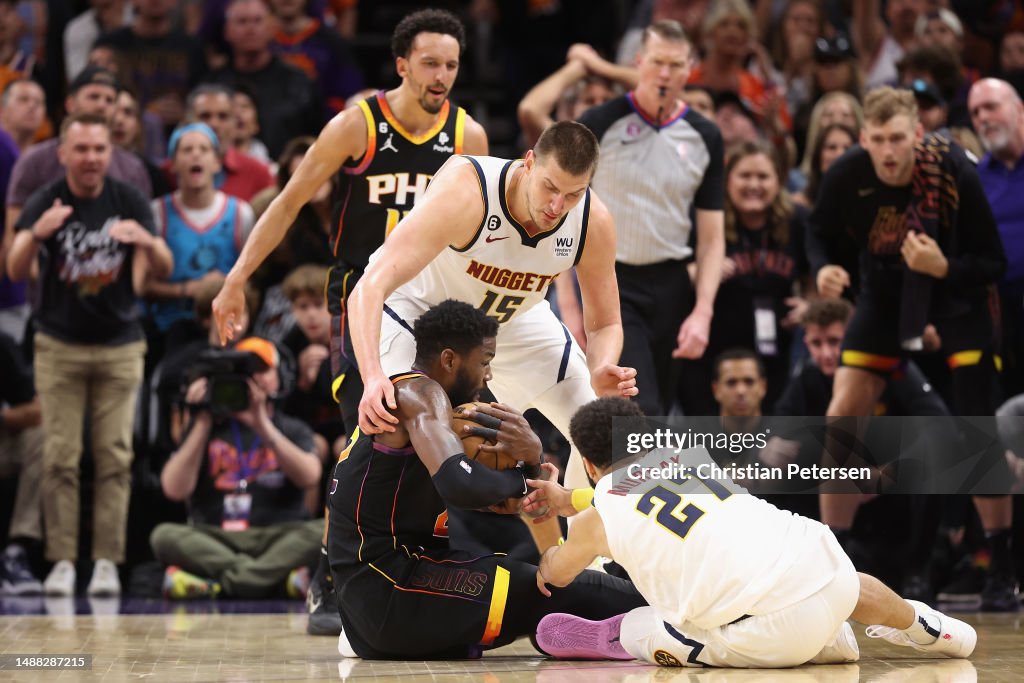 DEN VS PHX NBA MYFAB11 BEST FANTASY TIPS AND TRICKS
Match Details
DEN VS PHX NBA BASKETBALL
League American Basketball League
Date: Wednesday,10th May
Time: 7:30 AM (IST)
Venue: Ball Arena
DEN VS PHX Preview:
Game 5 of the Western Conference Semi-Finals will be held at Ball Arena, where the Denver Nuggets will face the Phoenix Suns on Tuesday. The series is currently tied at 2-2, with both teams winning their respective home games. This pattern gives the Nuggets an advantage due to their strong performance at home. However, the Suns have an opportunity to break this trend and secure a crucial road victory. They can build on their recent momentum from back-to-back wins and potentially position themselves to close out the series in six games.
Devin Booker has been a standout player, scoring 36 points in the previous game and maintaining an impressive average of 36.3 points per game. He has also showcased remarkable shooting efficiency, with a 63.7 percent field goal percentage throughout the series. Kevin Durant has also been a key contributor, averaging 32.0 points, 10.5 rebounds, 4.5 assists, 1.0 steal, and 2.0 blocks over the last four games. Deandre Ayton has provided steady contributions with an average of 10.0 points, 8.0 rebounds, and 1.3 assists.
Chris Paul has been sidelined with a groin injury for the past two games and will remain unavailable for Tuesday's action. On the other side, Nikola Jokic has displayed dominance in the series, particularly in the last game where he made history with a remarkable performance of 53 points and 11 assists. He became the first center ever to achieve a 50-point, 10-assist feat in a playoff game. Jamal Murray has also made significant contributions, averaging 26.0 points, 5.0 rebounds, 7.3 assists, and 1.0 steal throughout the four games. Aaron Gordon has been a valuable asset with averages of 14.8 points, 5.0 rebounds, 1.3 assists, and 1.0 steal.
Recent forms of both teams :
Phoenix Suns – L W W W W .
Denver Nuggets –  W W L W W .
Probable Line ups
Denver Nuggets
Probable Starting Five:
Point Guard: Jamal Murray
Shooting Guard: Kentavious Caldwell-Pope
Small Forward: Michael Porter
Power Forward: Aaron Gordon
Center: Nikola Jokic
 Players Unlikely to Play:
None
Probable Line ups
Phoenix Suns
Probable Starting Five:
Point Guard: Cameron Payne
Shooting Guard: Devin Booker
Small Forward: Josh Okogie
Power Forward: Kevin Durant
Center: Deandre Ayton
Players Unlikely to Play:
Guard : Chris Paul OUT
Key players from both teams :
Nikola Jokic
Michael Porter
Jamal Murray
Kevin Durant
Devin Booker
Captain and Vice-Captain Choices
Nikola Jokic
Kevin Durant
Devin Booker
Match Prediction
Phoenix Suns expected to win this match .
GET ALL BASKETBALL PREDICTION IN https://www.fantasyappapk.com/