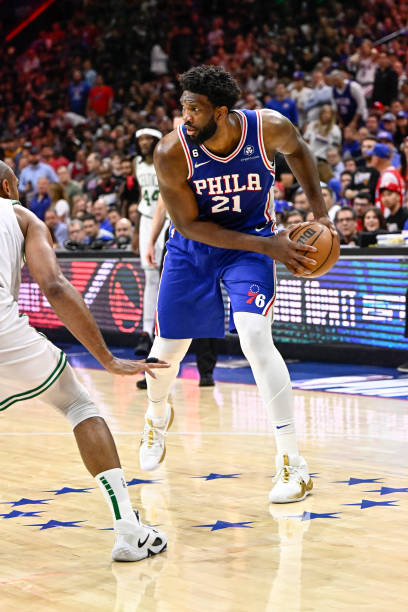 BOS VS PHI NBA MYFAB11 BEST FANTASY TIPS AND TRICKS
Match Details
BOS VS PHI NBA BASKETBALL
League American Basketball League
Date: Monday ,15th May
Time: 1:00 AM (IST)
Venue: TD Garden
BOS VS PHI Preview:
On Sunday, TD Garden will be the battleground for Game 7 of the Eastern Conference Semifinals between the Boston Celtics and the Philadelphia 76ers. The series stands at a tense 3-3, with both teams hungry for victory to secure their spot in the Eastern Conference Finals. The outcome of this hard-fought, 48-minute clash will determine who advances. The Miami Heat eagerly await the result, knowing they will face the victor in the next round. Philadelphia had hoped to seal the deal in Game 6, in front of their home crowd. However, the Celtics, led by an impressive performance from Jayson Tatum, turned the tables with 16 points in the fourth quarter, evening the series. The Sixers struggled in the fourth quarter, scoring only 13 points, and they will need to improve their game in this crucial matchup. Ultimately, the contest will revolve around the battle of superstars. Boston will rely on the prowess of Jayson Tatum and Jaylen Brown, while the Sixers will look to James Harden and Joel Embiid for leadership. Reflecting on Game 6, Marcus Smart led the Celtics with an impressive stat line of 22 points, seven rebounds, seven assists, and two steals. Despite a subpar shooting performance (5-for-21), Jayson Tatum's clutch three-pointers late in the game contributed to his 19 points, along with nine rebounds, six assists, two steals, and two blocks. Jaylen Brown contributed 17 points, six boards, and four assists, while Malcolm Brogdon added 16 points, six rebounds, two assists, and one steal. On the Sixers' side, Joel Embiid and Tyrese Maxey shared the scoring load with 26 points each, accompanied by 10 and five rebounds, respectively. Maxey also showcased his playmaking abilities with three assists and three steals. James Harden contributed 13 points, nine assists, seven rebounds, three steals, and one block to the team's effort in that defeat.
Recent forms of both teams :
Philadelphia 76ers –  L W W L L. .
Boston Celtics  –   W L L L W W .
Probable Line ups
Philadelphia 76ers
Probable Starting Five:
Point Guard: James Harden
Shooting Guard: Tyrese Maxey
Small Forward: Tobias Harris
Power Forward: P.J. Tucker
Center: Joel Embiid
Probable Line ups
Boston Celtics
Probable Starting Five:
Point Guard: Marcus Smart
Shooting Guard: Derrick White
Small Forward: Jaylen Brown
Power Forward: Jayson Tatum
Center: Al Horford
Possible Absences:
Key players from both teams :
Philadelphia 76ers
James Harden
Joel Embiid
Tobias Harris
Boston Celtics
Jaylen Brown
Jayson Tatum
Marcus Smart
Captain and Vice-Captain Choices
Jayson Tatum
James Harden
Joel Embiid
Match Prediction
Boston Celtics expected to win this match .
GET ALL BASKETBALL PREDICTION IN https://www.fantasyappapk.com/