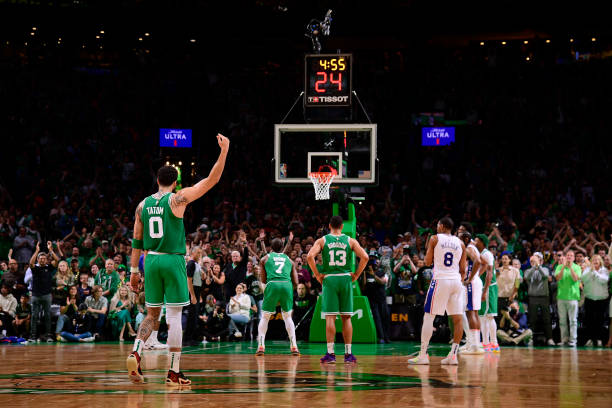 BOS VS MIA NBA MYFAB11 BEST FANTASY TIPS AND TRICKS
Match Details
BOS VS MIA NBA BASKETBALL
League American Basketball League
Date: Monday,22nd May
Time: 6:00 AM (IST)
Venue: Kaseya Center
BOS VS MIA Preview:
In Game 3 of the Eastern Conference Finals series, the Boston Celtics will face off against the Miami Heat at Kaseya Center on Sunday afternoon. Currently, the Heat holds a 2-0 lead in the series. The Celtics had a disappointing performance in their previous game at TD Garden on Friday night, losing 111-105 to the Miami Heat. This loss marked their fifth defeat in nine home games during the postseason. The fourth quarter proved to be particularly challenging for Boston, as they were outscored 36-22. Jayson Tatum led the Celtics with an impressive 34 points and 13 rebounds, achieving a double-double along with eight assists. Jaylen Brown contributed 16 points, four rebounds, and three assists, while Malcolm Brogdon and Robert Williams both scored 13 points and made two blocks. Brogdon grabbed four rebounds, while Williams had three. Derrick White added 11 points, one rebound, one assist, and two blocks to the Celtics' effort. Going into Sunday's game, the Celtics do not have any short-term injuries to report. On the other side, the Heat (2-0) were guided by Jimmy Butler's 27 points, eight rebounds, six assists, three steals, and two blocks. Caleb Martin contributed 25 points, four boards, one steal, and one block. Bam Adebayo achieved a remarkable double-double of 22 points and 17 rebounds, along with nine assists. Duncan Robinson scored 15 points, and Max Strus added 11. The Heat will be missing Tyler Herro (hand) for Sunday's game. This upcoming game will be the seventh meeting between the two teams since the start of the regular season, with the Heat having won four out of the previous six encounters.
Recent forms of both teams :
Miami Heat –  W L W W L .
Boston Celtics  –  W W L L W .
Probable Line ups
Miami Heat
Probable Starting Five:
– Point Guard: Gabe Vincent
– Shooting Guard: Max Strus
– Small Forward: Jimmy Butler
– Power Forward: Kevin Love
– Center: Bam Adebayo
Injury Updates:
– Tyler Herro: Will not be playing (OUT)
Probable Line ups
Boston Celtics
Probable Starting Five:
– Point Guard: Marcus Smart
– Shooting Guard: Jaylen Brown
– Small Forward: Jayson Tatum
– Power Forward: Al Horford
– Center: Robert Williams
Injury Updates:
– Danilo Gallinari: Will not be playing (OUT)
Key players from both teams :
Miami Heat
Jimmy Butler
Bam Adebayo
Max Strus
Boston Celtics
Jaylen Brown
Jayson Tatum
Marcus Smart
Captain and Vice-Captain Choices
Jayson Tatum

Jaylen Brown
Jimmy Butler
Match Prediction
Boston Celtics expected to win this match .
GET ALL BASKETBALL PREDICTION IN https://www.fantasyappapk.com/