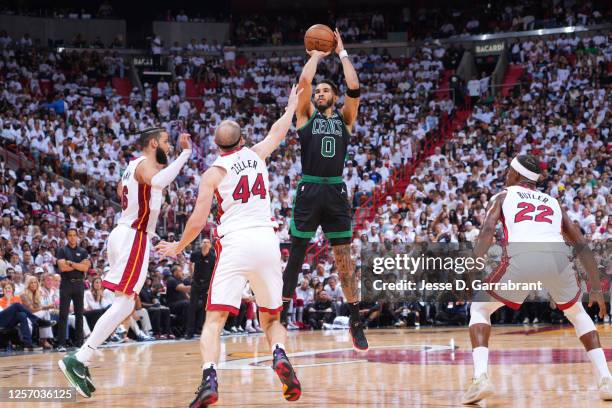 BOS VS MIA NBA MYFAB11 BEST FANTASY TIPS AND TRICKS
Match Details
BOS VS MIA NBA BASKETBALL
League American Basketball League
Date: Wednesday,24th May
Time: 6:00 AM (IST)
Venue: Kaseya Center
BOS VS MIA Preview:
In Game 4 of the Eastern Conference Finals, the Miami Heat will play host to the Boston Celtics at the Kaseya Center. Currently, the Heat have a commanding 3-0 lead in the series. The Heat's exceptional performance in the playoffs thus far has caught everyone's attention, surpassing expectations in their dominance over the Celtics. Surprisingly, Miami secured victories in the first two games against Boston, but their true exhibition of excellence came in Game 3. Leveraging their home-court advantage, the Heat displayed an overwhelming display of suffocating defense and explosive offense, thoroughly overpowering the Celtics from start to finish. With their backs against the wall, the Celtics face a crucial moment. If they lose this game, they will exit the playoffs in a disappointing fashion, considering their appearance in the NBA Finals just a year ago. On the other hand, the Heat only need to win one more game out of the remaining four to secure their spot in the NBA Finals for the first time since the 2020 bubble.
Gabe Vincent emerged as the top performer for the Heat in Game 3, showcasing an impressive effort with 29 points, three assists, and two rebounds. Jimmy Butler contributed 16 points, eight rebounds, and six assists, while Bam Adebayo added 13 points and three rebounds. Max Strus scored 10 points and secured three boards, and Duncan Robinson provided a significant boost off the bench with 22 points. Caleb Martin displayed a solid performance with 18 points, four assists, and three rebounds. Miami's shooting was exceptional, with a remarkable 56.8 percent success rate from the field.
However, the Celtics struggled immensely on offense during Game 3. Jayson Tatum led the Celtics with 14 points and 10 rebounds, followed by Jaylen Brown with 12 points, six rebounds, and two assists. Grant Williams and Payton Pritchard each contributed 12 points coming off the bench, with Pritchard also providing five assists. Luke Kornet recorded 11 points. Unfortunately, Boston's field goal percentage was dismal, with a woeful 39.8 percent success rate.
Recent forms of both teams :
Miami Heat –  W L W W L .
Boston Celtics  –  W W L L W .
Probable Line ups
Miami Heat
Probable Starting Five:
– Point Guard: Gabe Vincent
– Shooting Guard: Max Strus
– Small Forward: Jimmy Butler
– Power Forward: Kevin Love – GTD
– Center: Bam Adebayo
Injury Updates:
– Tyler Herro: Will not be playing (OUT)
– Kevin Love – GTD
Probable Line ups
Boston Celtics
Probable Starting Five:
– Point Guard: Marcus Smart
– Shooting Guard: Jaylen Brown
– Small Forward: Jayson Tatum
– Power Forward: Al Horford
– Center: Robert Williams
Injury Updates:
– Danilo Gallinari: Will not be playing (OUT)
Key players from both teams :
Miami Heat
Jimmy Butler
Bam Adebayo
Max Strus
Boston Celtics
Jaylen Brown
Jayson Tatum
Marcus Smart
Captain and Vice-Captain Choices
Jayson Tatum

Jaylen Brown
Jimmy Butler
Match Prediction
Boston Celtics expected to win this match .
GET ALL BASKETBALL PREDICTION IN https://www.fantasyappapk.com/